Borough Market has formally twinned with Barcelona's La Boqueria market at a signing in the Borough Market Trustees' boardroom on Friday.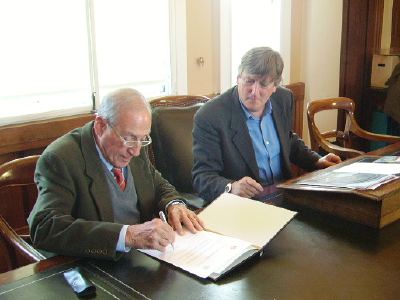 Manuel Ripoll i Estera signing the agreement
Boqueria president Manuel Ripoll i Estera exchanged documents with Borough Market trustee and former chairman George Nicholson.
Watching the signing were members of the Association of European Food Markets who are meeting in Southwark to celebrate Borough Market's 250th anniversary. Among those present were representatives of markets in Lyon, Turin and Budapest.
Borough Market's collaboration with the Mercat Sant Josep, situated on La Rambla in Barcelona, was announced last year.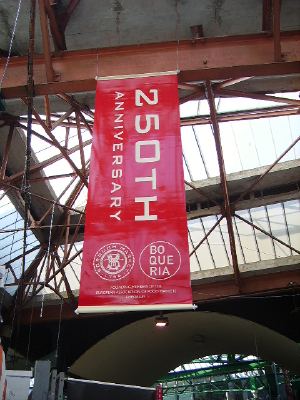 Anniversary banner

George Nicholson said: "This twinning event and the launch of the Association send out a powerful signal that there is a vibrant and growing number of quality food markets in Europe. Members are determined to promote the sector and the growth of a local producer base as well as tackle growing public concerns over food production and diet."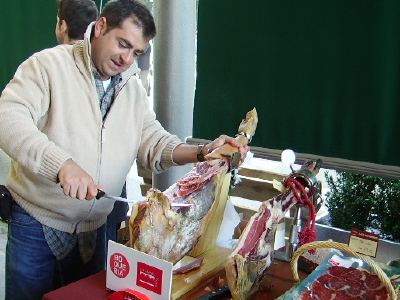 Barcelona trader in the Floral Hall
Monika Linton, founder of Brindisa and one of the first retail traders in the Borough Market, welcomed the twinning and recalled both living in Catalonia and coming home to the Borough to seek storage for her olive oil.
Commenting afterwards Simone Crofton, Borough Market chief executive, said: "We have already learnt a tremendous amount through sharing experiences with other major markets in the UK and mainland Europe."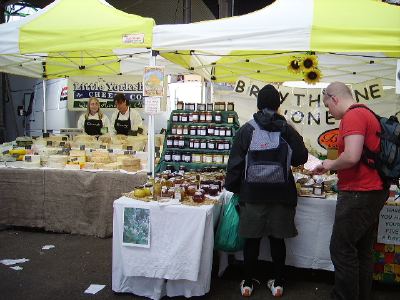 Stalls from Bradford Market
During the weekend La Boqueria and Bradford Market have stalls in Borough Market.
• An illustrated History of Borough Market: 250 Years (£6), available from the Borough Market offices, includes contributions by George Nicholson, former chairman Ted Bowman and farmer Peter Gott as well as a photograph of Prince Charles and the Duchess of Cornwall visiting the Market.