Bankside Restaurant has opened a second restaurant in the City. It is called Bankside EC2 and is on Throgmorton Street behind the Bank of England.
Not only is the name still suitable for the unique location but the restaurant is just a short walk from Bankside SE1 opposite the Financial Times building.
Executive chef Richard Oxley, formerly Head Chef at the Tate Modern, presides over a menu which mirrors the dishes and affordable prices which have made Bankside SE1 in Sumner Street such a success. All starters and desserts are £4 and main courses cost from £7.50 to £11.50.
Dishes include vine roasted tomato, mozzarella, rocket and basil salad; confit duck leg with crushed white beans & rosemary; and white chocolate & amaretti biscuit cheesecake.
As in SE1, Bankside EC2 has a small entrance but steps lead down to a large area with intimate seating for 300 people. The flexible dining area includes a range of private dining room options.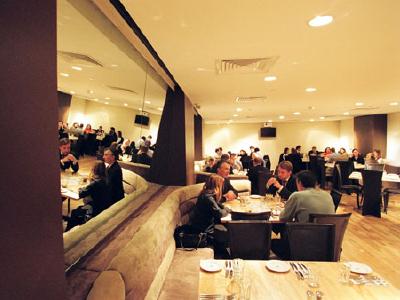 Managing Director Kelvin Macdonald decided not to hold a launch party but just opened the doors. To celebrate he is is offering a series of discounts to Privilege Card holders. During November, Privilege members are able to dine half price at Bankside EC2. Once signed up as a Privilege member over the website a variety of discounts from 10% to 50% off food can be enjoyed throughout the year. Kelvin is also offering a free meal in either Bankside restaurant following a visit to both SE1 and EC2.
Bankside Restaurants are Investors in People accredited and earlier this year were declared Small Company of the Year in the Business in the Community annual award for corporate social responsibility. Initiatives such as recycling and support for local educational projects are set to continue with the launch of the City restaurant.
• Bankside EC2 is located at 1 Angel Court on Throgmorton Street (0845 226 0011)
• Book online for Bankside EC2