Nurses at Guy's and St Thomas' have been dazzling patients in their brand new uniforms created by top fashion designer Paul Costelloe.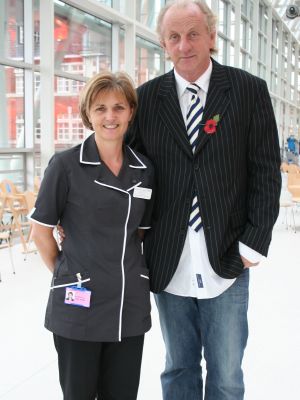 Chief Nurse Eileen Sills wearing her new uniform with designer Paul Costelloe
Paul has designed uniforms for businesses in the past but this is the first time that a hospital has worked with a designer to come up with a custom made uniform.
Although the overall designs were Paul's work, nurses in the Trust also had their say, making adjustments and adding features to make their working lives much easier. For example they were keen to have slits in the sleeves to help them move around more easily and the uniforms are made of a high quality fabric which will help keep them cool in the summer and warm in the winter.


The six new nurse uniforms left to right: Light Grey – Healthcare Support Workers; Petrol Blue – Staff Nurse; Royal Box Blue – Deputy ward Managerl Mauve – Matrons (Clinical Nurse Managers); Navy – Ward/ Departmental Sister/ Charge Nurse; Charcoal Grey – All Nurse Specialist/ Practitioner/ senior nurse posts
Paul Costelloe said: "I was delighted to be able to design a new uniform for the nursing staff at Guy's and St Thomas'. Nurses work very hard and I have a great respect for what they do, so it really was an honour to design them something smart and practical to wear when they are working."
The new uniforms are designed to give the Trust's nurses a consistent uniform across all departments and wards which allow patients to recognise who they should talk to if they need something or have a problem.
Chief Nurse, Eileen Sills, explains: "Patients have told us that they are keen to see staff in uniform as it helps them to identify the right person to talk to. The new uniform will help to make sure that no matter where a patient is in the hospital, whether it be an outpatient clinic or a ward they can very quickly identify a staff nurse or a matron from the colour of their uniform."
Every nurse in the Trust has been individually measured to make sure that when they get their brand new uniforms in the next few weeks or so they will fit perfectly. The new uniforms consist of a choice between trousers and tunics and dresses or a mixture of the two.
Stuart Glenister, one of the trust's heads of nursing, led the project and has been delighted with the response from staff: "The feedback from staff who already have their new uniform has been really positive. Our nurses feel really smart wearing them and are amazed at just how comfortable they are. As we collaborated closely with Paul Costelloe on the design they are ideal for the work we do."