Just last Friday afternoon 120 Southwark school children and Steam Industry educators and actors put on a spectacular show in the Scoop open-air amphitheatre.
The event was the finale of the annual STEP (Southwark Theatres' Education Partnership) Festival. This festival brings together pupils from all over Southwark to explore different ways and benefits of learning through theatre in the surrounding community.
The Friday show was about the many Labours of Hercules. This original production was inspired by the play Children of Hercules, which is currently part of The Steam Industry's London's free open-air theatre season.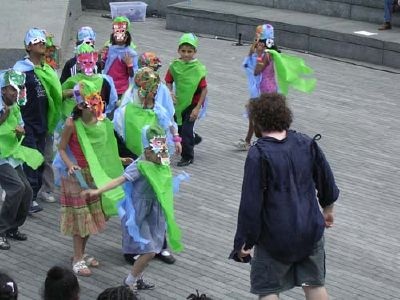 With four main sections of the performance, Hercules, played by one of the The Steam Industry accomplished actors, fought off challenging monsters, played by the energetic Southwark pupils. At the end of each challenge, in which Hercules conquered all, the Scoop theatre erupted in a chant "Hercules! You're the man!". Full of fun energy, talent, great costumes, and positive learning, this finale event had the audience rolling with laughter and clapping joyfully throughout the entire performance!
I can only imagine how much fun next year will be.