As the Rambert Dance Company celebrates its 80th birthday, it is pushing ahead with its New Home Appeal to raise £8 million for its new South Bank HQ.
Rambert">
Rambert's new home
On 15 June 1926 the visionary Polish dance teacher Marie Rambert presented a short ballet "A Tragedy of Fashion" by her pupil Frederick Ashton at the Lyric Theatre Hammersmith, marking the birth of what was to become Ballet Rambert, and the most influential force in the development of British dance.
80 years later, under the artistic leadership of Mark Baldwin, Rambert Dance Company remains at the vanguard of the British dance scene.
During its 80th anniversary year, Rambert is channelling much of its energy into the fundraising campaign for its New Home Appeal. Coin Street Community Builders has given the company a plot of land on the South Bank worth £5 million. Rambert needs to raise £11.5 million in order to make the new centre a reality.

The new centre, designed by Allies & Morrison, will enable Rambert to develop even more innovative and exciting productions, dancers and choreographers; provide full access for the first time to Rambert's unique and extraordinary archive; and enhance Rambert's community and education programme, providing opportunities for people to experience for themselves the thrill of modern dance in a welcoming, inclusive environment.
Waterloo Bridge">
The Doon Street development from Waterloo Bridge
The new Rambert dance centre will be part of Coin Street's Doon Street development, featuring a community leisure centre funded by a 48-storey residential tower<>.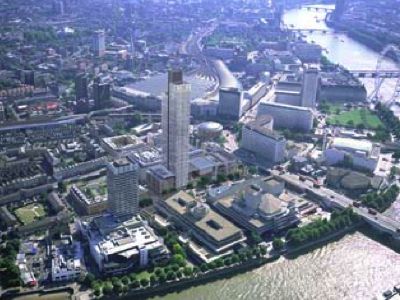 "This is perhaps the most exciting moment in the Company's modern history, a realisation of a dream first dreamt by Marie Rambert, when she founded the Company in 1926," says artistic director Mark Baldiwn. "This will be a laboratory to experiment in, the means to reach into the community we serve, and at last a real purpose-built home for the Company."
Rambert has already raised £3.5 million through a variety of sources including Arts Council, England, The Foyle Foundation, two lead gift pledges of half a million each from very generous individual donors, plus other private donations, leaving £8 million still to raise. Rambert aims to have enough money raised to break ground in 2007.