A Waterloo company has helped Transport for London to 'go solar' with photovoltaic panels installed as part of the newly opened Vauxhall Cross transport interchange.

Image courtesy of solarcentury
Mayor of London Ken Livingstone officially opened the long-awaited Vauxhall Cross Transport Interchange last week.
Buses started using the Vauxhall Cross Interchange last December. There are currently 12 bus routes serving the interchange, carrying around 25,000 passengers in peak periods.
The striking 'fork' structure reaches skyward, capturing enough solar energy to provide a third of the 24-hour bus station's energy demand.
The rooftop solar photovoltaic system silently generates energy for the using nothing more than daylight. Lower Marsh-based solarcentury, acknowledged as the UK's leading solar photovoltaic company, designed and project managed the system.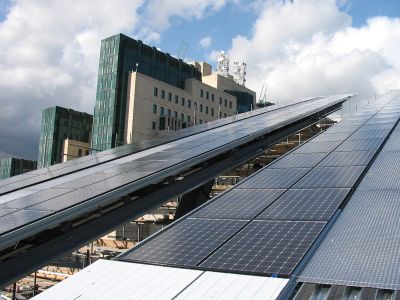 Image courtesy of solarcentury
At the opening ceremony the mayor joked that since the rooftop solar PV system was commissioned two months ago it had generated enough clean electricity to avoid the emission of green house gas carbon dioxide equivalent to the "bodyweight of 11 politicians".
TfL has also pioneered the use of solar energy for lighting bus stops, bus shelters and roadside ticket machines, including a trial solar powered ticket machine on Waterloo Bridge.
The Department of Trade and Industry provided 65 per cent grant funding for the installation of solar PV modules for this project, as part of their Major Photovoltaic Demonstration Programme.
• Last September Prime Minister Tony Blair visited solarcentury's rooftop demonstration area in Lower Marsh.
• Solarcentury won three trophies at the Inner City 100 Awards in November 2004.