A linear park bringing light into Bermondsey's dark and gloomy railway arches has won first prize in an international competition organised by Spacia and the Cross River Partnership.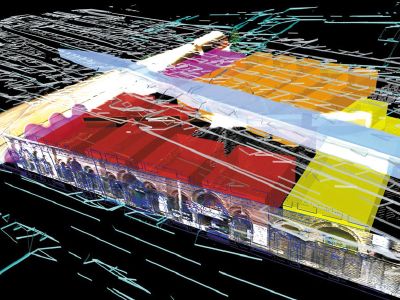 The 'Light at the End of the Tunnel' competition sought creative and viable architectural ideas for restoring the railway viaduct that snakes across SE1, attracting 53 entries from six countries.
The competition was won by The Facility, a practice based in Bermondsey, just around the corner from the arches. It submitted ideas for a linear park – dubbed the GlowGrowGrass (3G) Park – to unite the two sides of the viaduct and create open space for community use. The proposal also outlined how the viaduct could be used for new commercial and residential space to create a diverse city environment.
The green landscaping within the park would incorporate innovative planting selected from trees and grasses that thrive under low UV light levels. And electroluminescent panels lining the underside of the arch would map people's passage through the park. The park escapes
strong visual presence for the new development from London Bridge.
Piezoelectric vibration sensors incorporated in the wall lining would transform mechanical energy from the vibration of trains above into electrical charge to supply lighting.
The Facility is in talks with the Cross River Partnership and Spacia about how best to make the project a reality and improve access to this part of Bermondsey Street.

The competition was managed by the Royal Institute of British Architects and forms part of a wider strategy to transform the viaduct. A public exhibition will run, as part of
Architecture Week
, until Saturday 25 June in one of Spacia's restored arches in
Wootton Street
, near Waterloo station. Of the 53 entries, the 22 shortlisted will be exhibited.
"Designs created for the competition will change the way the we think about the viaduct and speed up its transformation," commented CRP director Savas Sivetidis. "All the winning entries were outstanding but the judges decision on The Facility was unanimous it challenged conventional use and design."
Between Vauxhall and London Bridge alone there are ten kilometres of viaduct housing almost 1,000 railway arches, and containing more than 250,000 square metres of space.
In second place was FXV who proposed an elegant solution creating mixed-use space focusing on leisure uses such as galleries and theatres.
Third prize was shared by Lewis and Hickey who suggested prefabricated units to create new space using pods that can, in places, be pulled out to increase capacity and Carey Niemen Architects for a sculptural proposal uniting the two sides of the viaduct to create a hub for the creative industries.