Southwark Cathedral's controversial plans for the redevelopment of the All Hallows church site in Copperfield Street have been turned down by Southwark Council.
Correction January 2007: The refusal was a delegated decision made by council officers, not elected councillors as indicated below.
The Cathedral's planning application involved demolition of the existing church and church hall with retention in part, and the construction of a four storey building on the site of the existing church, comprising office space on the ground floor and community/worship use on the ground floor and within the crypt and provision of 13, two bedroom self contained flats on the 1st, 2nd and 3rd floors. The development also included the construction of new canon pastor's three storey house on the site of the existing church hall.
Councillors said that the new building would "adversely affect the character, appearance and continuity of this part of the borough, and would fail to either preserve or enhance that character, appearance and continuity of the same".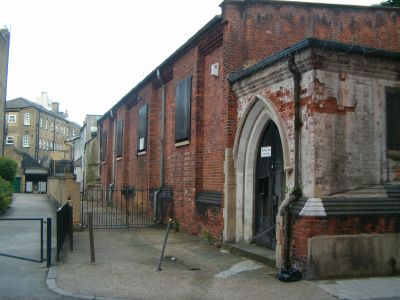 The council's reasons for refusal also included the "detrimental impact" on residents of nearby Thorold House and Trelawney House, who would suffer "loss of light and a "sense of enclosure"
Councillors also ruled that the proposal contravened provisions of the Southwark Plan concerning a "mix of dwellings" (specifically the omission of any three bedroom units) and safety considerations of the 'Designing Out Crime' section.
In a statement the Dean of Southwark, the Very Revd Colin Slee, claimed that the cathedral had not yet been formally informed of the council's decision: "We have been informed locally that the Planning Committee of the London Borough of Southwark has rejected our present application and scheme to redevelop the site of the bombed-out All Hallows church Copperfield Street, although no notification from the Borough has yet been received by the Cathedral.
"We accept that the decision has been made by the appropriate regulatory authority after due process.
"We will consider the decision when we receive the details and reasons; as a matter of policy the Chapter will always work by due process and so we make no further comment."
All Hallows, on the corner of Pepper Street and Copperfield Street, was destroyed during the 1941 blitz. Afterwards the Cathedral, in whose parish the church stood, retained the north aisle as a temporary church and in 1968 created the community garden in the former nave and south aisle.
• Related story: Concern over Cathedral's plan to build alongside community garden – 8 June 2005
• Related forum thread: All Hallows Church, Copperfield Street