Southwark Cyclists celebrated Bike Week with their annual breakfast on Wednesday morning - held at Shakespeare's Globe for the second time.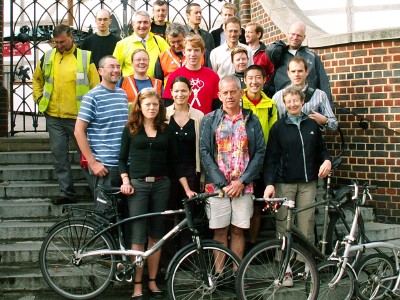 Members of Southwark Cyclists on the steps of the Globe, with Cllr Lisa Rajan (centre)
This year the breakfast coincided with the group's annual 'Midsummer Madness' overnight ride. Run in conjunction with other local cycling groups, 30 riders started at Greenwich with another 30 waiting at the
Southwark Needle
at the southern end of London Bridge
The intrepid cyclists enjoyed watching the sun rise over London from Primrose Hill on the longest day of the year, before heading back to Southwark for breakfast at the Globe.
At Shakespeare's Globe they were joined by Southwark's new executive member for environment, Cllr Lisa Rajan, who pledged her support for initiatives to improve facilities for cycling in the borough.
Southwark Cyclists' annual Bike Week programme has been busier than ever this year, with the group providing support for a series of guided bike tours for the London Architecture Biennale.
The group, which has 700 members in the borough, has also played a role in setting up an exhibition called Reinventing the Bike Shed, which can be seen in The Arches (behind On Your Bike) on Tooley Street until Sunday 25 June. It offers designer solutions to the problem of bike theft.