Residents and organisations opposing the licensing of a lapdancing club in Tooley Street protested on the steps of Southwark Town Hall on Wednesday night.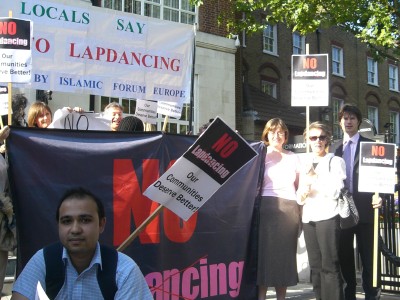 Demonstrators outside the Town Hall
A seven strong delegation was received in the council chamber where Jilly Frisch, secretary of the
Shad Thames
&
Tooley Street
Association, was allowed to address the council assembly.
The protesters are opposing the opening a lapdancing club near the London Dungeon in Tooley Street. Jilly Frisch, who said that a petition had attracted 850 signatures, told councillors that residents were disappointed that they had not been consulted. She pointed to a recent report which indicated that cases of rape increase in proximity to such clubs.
She warned that the sex industry could find it easy to open in Southwark and called for Southwark Council to consider adopting the tough policy pursued by Westminster City Council.
Her five minute plea was met with applause from the crowded public gallery. Those flanking the speaker included a father of two children living in Tooley Street, a representative of GLA staff at City Hall and a member of the Southwark Heritage Association.
The delegation's call for Southwark to follow the Westminster example was taken up by deputy Labour leader Cllr Fiona Colley but her motion was amended after the Liberal Democrat-led administration insisted that council's ability to act was constrained by the government's recent licensing legislation.
An amended motion calling for a change in the law to allow councillors greater input into the process, proposed by chair of licensing Cllr Linda Manchester, was agreed.
Labour's Cllr Susan Elan Jones, making her maiden speech in support of Cllr Colley's motion, revealed that her attempt to research the lap dancing issue had been blocked by the town hall IT department as the subject was deemed unsuitable for access by council staff.
Afterwards council leader Nick Stanton said: "It has always been quite clear to me that Tooley Street is completely unsuitable (for a lap dancing club) and that was made even clearer by the residents who came to speak to us tonight."
• The demonstration and delegation was supported by the following organistions: Beormund Centre, Britain at War Museum, Downside Fisher Youth Club, GLA Unison Branch, HMS Belfast, Islamic Forum Europe Southwark, London Bridge Hospital, London Dungeon, Old Kent Road Mosque & Islamic Centre, Peckham Islamic Centre, Poole of London Partnership, Salmon Youth Centre, Snowsfields Primary School, Southwark Asian Organisation, Southwark Cathedral, Southwark Heritage Association, Southwark Multi faith Forum, Southwark Muslim Council, Shad Thames Residents Association, Tooley Street TRA, Tower Bridge Primary School and Unicorn Theatre for Children.
• Online petition