Leading playwright Sir Alan Ayckbourn and children from Tower Bridge Primary School have taken part in the Unicorn Theatre groundbreaking ceremony .
The
Unicorn Theatre
for Children is being built in Southwark's
Tooley Street
at a cost of £11.5 million, as part of the More London development. It is due to be completed in 2005.
Mayor of London Ken Livingstone said: "The Unicorn Theatre is a wonderful project and I am pleased to have been able to help, through the London Development Agency, towards raising the money required to develop it as a world-class theatre for children right in the heart of London.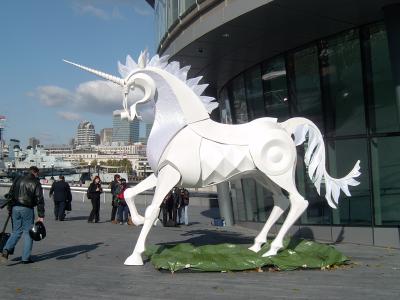 "The Unicorn encapsulates some of the aims set out in my strategies for culture and for children."
The project will house a 350 seat auditorium, a 120 seat studio theatre, rehearsal space, a café and exhibition space. The architect is Keith Williams.
Among those at the ceremony were patrons Sir John Mortimer and Jeremy Paxman. Sir John's actress daughter Emily Mortimer started the digging surrounded by the children who came from from the nearest school.