Ken Livingstone was challenged at his weekly City Hall press conference about his controversial opposition to the proposed lapdancing club on Tooley Street.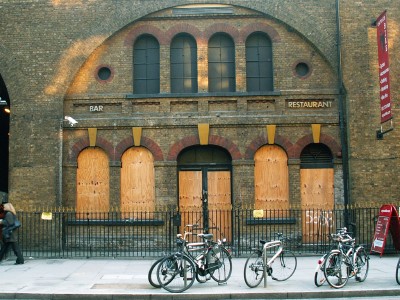 "Ideologically I'm not in favour of lapdancing clubs," said the Mayor.
"It's not like it's buried away in some sleazy quarter of the city," he added, referring to the Rembrandt Club which plans to open in premises on the corner of Tooley Street and Weston Street.

"Centre for family tourism"
"It's actually down on a main street which is a centre for family tourism. All through the year there are children queueing to go into the London Dungeon, the museum of the war, coming down to see the Belfast, and now, almost opposite, the Unicorn children's theatre.
"And I have to say that I can't think of a less appropriate site to actually have a lapdancing club than in a centre where I suspect millions – certainly hundreds of thousands – of children come as part of their holidays or on visits.
"Not appropriate"
"However discreet the design of the thing, there will still be something that impinges on the consciousness of those kids, and I think therefore that this is an area where this is certainly not appropriate, even if you're one of the people who think that these [clubs] add to the gaity of the nation."
Last week it emerged that the Mayor had paid £4,000 from the Greater London Authority's expert witness fund to Southwark Cathedral to help cover the costs of the legal representation engaged by the Cathedral and London Bridge Hospital, who lodged a formal objection when the lapdancing club's application was considered by Southwark's licencing committee last December.
"We were not allowed to object on moral grounds yet thousands of children pass down the street every day and the evidence is that similar clubs encourage undesirable behaviour," the Dean of Southwark, the Very Revd Colin Slee, told The Guardian. "We have a hospital nearby with many Muslim patients who will be offended, so multi-cultural relations will be damaged."
"The millions spent regenerating this area will be wasted because of this council's sloppy policies if the area is given a sleazy reputation and businesses move away as some are threatening to do."
The Mayor's advisor on women's issues, Anni Marjoram, and the Pool of London Partnership's Terry Wilden both made witness statements in support of the objectors.
Whilst the adult entertainment licence was granted, a number of conditions were imposed, restricting certain activities to 9pm-3am daily, and prohibiting advertising relating to lap dancing or striptease within 1 mile of the premises.
It is understood that the Rembrandt Club is now seeking to challenge these conditions at a magistrate's court hearing.