Speaking at Mayor's Question Time on Wednesday, Ken Livingstone pledged to continue to oppose the planned lapdancing club on Tooley Street.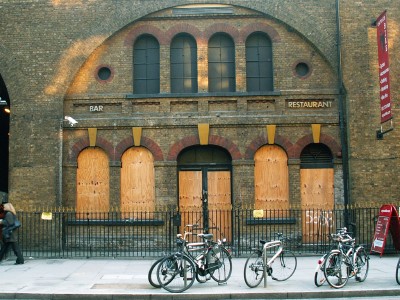 Addressing members of the London Assembly at
City Hall
, the Mayor of London branded the decision of Southwark Council's licencing committee to grant a licence to the Rembrandt Club on
Tooley Street
as "bizarre".
The Mayor's latest remarks follow last week's revelation in his monthly report that the GLA had paid £4,000 towards Southwark Cathedral's expenses in objecting to the licence application. On Tuesday Mr Livingstone told reporters at his weekly press conference that the Tooley Street site was "certainly not appropriate".
"We have other boroughs taking a very different line," said the Mayor. "Westminster City Council has taken a very firm line. Their guidelines state that 'applications involving nudity or strip-tease or sex-related entertainment will only be granted in exceptional circumstances and applications involving nudity or strip-tease will not be granted in close proximity to residential accommodation, schools, places of worship, community facilities or other public buildings'.
"The reality is that this immediate area is a major centre for tourism and particularly for family-related tourism. All of us see literally tens of thousands of families queueing with their children to go to the London Dungeon, the history of war museum, coming to look around Hay's Galleria, and of course the Unicorn children's theatre is now constructed virtually opposite the site of this lap-dancing club and I would assume that there's absolutely no earthly reason why Southwark Council couldn't have taken the same robust approach that Westminster City Council does on this.
"My women's advisor, Anni Marjoram, attended the inquiry [sic] and gave evidence on my behalf, as did many other members of the community. Sadly the council issued permission for the lapdancing club on 15 December.

Unlawful wording
"The permission turned out to be unlawful in its wording and therefore was withdrawn and a new permission [was granted] on 3 March, but it doesn't involve inviting those objectors back to discuss this.

"Offensive eyesore"
"I view with some alarm the fact that in an area that's so heavily used by children and families from around the world that this eyesore – a very offensive eyesore – with all that it entails, will be there.
"Of course the lapdancing won't be taking place during the day when most of the tourists will be around, but the Unicorn Theatre will be open during the hours of opening of the lapdancing club.
"We've also seen studies of other lapdancing clubs which shows a clear relationship between the level of sexual assault, and rape, and general nuisance and intimidation in the area of a lapdancing club, and many women feel intimidated by this.
"So I've asked our officers to see whether we can support an appeal against this – they will know hopefully by the end of today [Wednesday] – and if that is the case it is my intention that the GLA should underwrite the cost of the appeal in the hope of overturning this."

Mayor: we would be ashamed for years to come
London Assembly member Jeannette Arnold (Labour, North East London) queried the cost of the appeal and the chance of success. The Mayor promised to update her on the figures, adding: "If we actually see that lapdancing club, with all its attendent publicity, opened in what is a family tourism area, it is something we will all feel rather ashamed about for many years to come."
Conservative Richard Barnes asked whether the Mayor felt that the lapdancing club would fully engage the Riverside Ward Safer Neighbourhood police team, diverting them from dealing with other matters. Mr Livingstone pointed to studies showing links between lapdancing clubs and prostitution and anti-social behaviour.
Fellow Tory Bob Blackman asked what steps the Mayor was taking to convey his views on the lapdancing club to the residents of Southwark. "I can't see that we're going to do a special edition of The Londoner on lapdancing for circulation in the area," replied the Mayor. "I can't imagine getting any special circulation of anything. We're off to what is a quasi-judicial process with m'learned friends..."