Coin Street Community Builders has released new images of its proposed mixed-use development on Upper Ground - including the controversial 48-storey tower.

The 'sensitive' view from the footbridge in St James' Park is "perfectly acceptable", says CSCB.
The development, master-planned by architects Lifschutz Davidson Sandilands, includes an indoor swimming and leisure centre, 355 flats, a new headquarters for Rambert Dance Company, public open space and shopping. A planning application has now been submitted to Lambeth Council.
The Doon Street site is bounded by Waterloo Bridge, the National Theatre, CSCB's Iroko housing development, and King's College. For many years the site has been a car park and the temporary location of CSCB staff offices.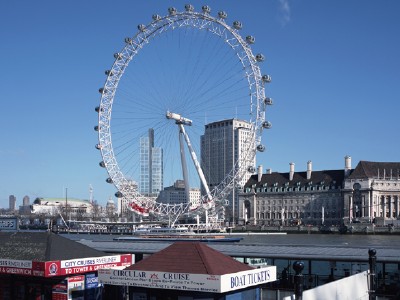 from Westminster Pier
The leisure facilities will be funded by a 48-storey tower containing 355 flats to be sold at market rates, which some locals consider to be surprising departure from CSCB's portfolio of low-rise social housing.
CSCB admits that "it is always contentious to propose tall buildings".
In a statement, CSCB says that it "... believes that the design is excellent. The benefits to this part of central London are exceptional. The uses – including the Rambert building designed by a team led by Allies & Morrison Architects – are ones both needed and appropriate. The improvements to the public realm and to pedestrian movement around the South Bank are long overdue."
CSCB is keen to draw a contrast between its plans for a leisure centre and previous approved schemes for the site which never came to fruition, including hotels and offices.
Waterloo Bridge">
From Waterloo Bridge
The proposed development forms a terrace of buildings of the same height as the neighbouring King's College, punctuated by a slender tower composed of two elements clasped around a lift and stair core.
The height and bulk of the terrace steps up in scale from the smaller housing developments to the east and forms an intermediate step towards the bulkier forms of the White House and
Shell Centre
to the west.
• More images of the proposed development were released last October.
• The new images don't show how the new tower will relate to other proposed high-rise buildings in the area, such as the Beetham Tower at Blackfriars Bridge, the 'three sisters' at Waterloo and the heightened King's Reach Tower.