Saturday's sheep drive from Southwark to Smithfield to launch the London Architecture Biennale has been threatened with disruption by animal rights activists.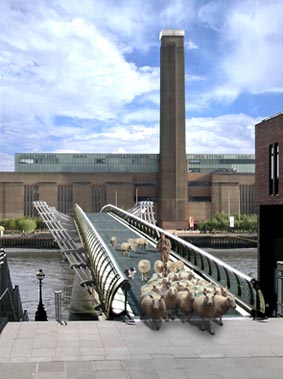 Shard of Glass architect Renzo Piano and Richard Rogers will
drive sixty of Farmer Sharp's Herdwick sheep
from
Borough Market
to Smithfield via the
Millennium Bridge
on Saturday morning. The two architects are taking the place of Norman Foster who had been due to participate in the sheep drive but has been unavoidably detained in New York.
On crossing the river the flock was due to be greeted by the sound of a Salvation Army band playing Psalm 23 (The Lord's My Shepherd) outside the organisation's new headquarters building.
However, the Salvation Army has now withdrawn its participation from the event after receiving telephone threats from animal rights activists who described the sheep drive as "the work of the Devil".
Biennale director Peter Murray insisted that the sheep were being looked after in "an exemplary fashion". He told the London SE1 website: "I don't understand the mentality of people who wish to disrupt a wonderful day out", and pointed to the "800 year inalienable right [of Freemen of the City of London] to drive sheep between Southwark and the City."
He described threats to smash the windows of the Salvation Army's headquarters as a "criminal act which ought to be dealt with by the police in the firmest possible way".
The charity Animal Aid has distanced itself from the threats of damage but says that the event will "cause huge stress and distress to the sheep involved" and is calling on organisers to cancel it.
• Our guide to London Architecture Biennale events in SE1