There's no escaping the 22-storey tower at Berkeley Homes's Tabard Square development thanks to the addition of an illuminated barometer-controlled beacon.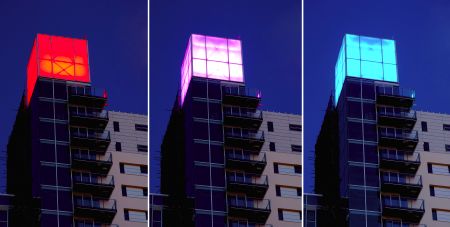 The glowing beacon – officially unveiled on Thursday – changes colour depending on the barometric pressure. The glass box contains colour-changing LEDs which are controlled by a digital barometric pressure sensor.

• Very Low: Green
• Low: Green – Blue
• Low Mid: Cyan
• High Mid: Blue
• High: Purple
• Very High: Red

The main body of the beacon will be lit 24 hours a day, with the beacon at its brightest at sunset. To reduce light pollution, the light intensity will decrease throughout the night.
The barometric threshold values are based on inspection of measured annual weather data for the London area for each year since 1972, to ensure a sensible programme for colour change.
The colour transition from each threshold will take 60 seconds to complete. The beacon can also be set to display more dynamic colour shows for special occasions.
Opinion about the new beacon – which has been tested in recent days – has been divided. Some users of the London SE1 Forum have expressed concerns about the use of energy and the light pollution implications of the illumination. Other local residents have found the bright light intrusive.
"The beacon on the top of Tabard Square's residential tower is intended to act as a 'beacon for urban regeneration', and will enhance Tabard Square as a landmark and inspiration to the local community," says Mark Dickinson, MD of Berkeley Homes (East Thames). "We are sure that once people recognise which colour represents the variety of weather conditions, they will be able to use the beacon as an early warning weather system."
Tabard Square is one of the largest brownfield regeneration sites in central London at 1.2 hectares, and has transformed the former Pickfords Removals Depot on Long Lane into a mix of homes, shops, leisure facilities, commercial space – which includes the recently opened Bright Horizons childcare centre – and offices. The homes and commercial outlets will be set around a central public square.
Berkeley says that more than 80 per cent of the 572 apartments (£345,000 to £595,000) have already been sold.
• A major archaeological dig on the site found a 2,000-year-old Roman plaque and a pot containing a Roman cosmetic ointment.

How to read the Berkeley barometer




Pressure Range



Colour


Barometric air pressure ranges (millibars)




Winter
Dec Jan Feb



Spring
Mar Apr May



Summer
Jun Jul Aug


Autumn
Sep Oct Nov




Very Low


Green


<999


<1004


>1009


<1004




Low


Green-Blue


999-1007


1004-1010


1009-1013


1004-1010




Low Mid


Cyan


1007-1015


1010-1016


1013-1017


1010-1016




High Mid


Blue


1015-1023


1016-1022


1017-1021


1016-1022




High


Purple


1023-1031


1022-1028


1021-1025


1022-1028




Very High


Red


>1031


>1028


>1025


>1028