The £2 million redevelopment of Spa Gardens in Bermondsey was unveiled on Saturday at a special community event.

Ellen Brown's family cut the ribbon to open the new facilities
The redevelopment includes new paths, plants, lighting, bins, benches, play equipment and signage – and a new Sure Start building.
Saturday's free family day for local residents included music, children's activities, healthy living stalls and a marquee containing information on the wider Bermondsey Spa regeneration plans.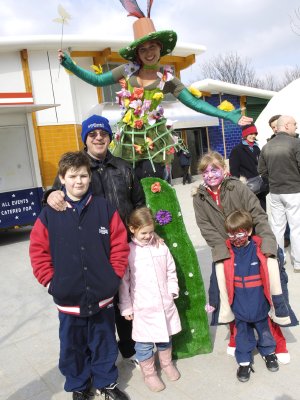 The scheme includes the new Ellen Brown Bermondsey Play Centre which will provide facilities for children from 5 to 15 years of age. One half of the building will be occupied by Sure Start catering for the 0-5 age group and the other half by Southwark Play Services catering for the older age group. Both of these areas will have outdoor spaces including facilities for adventure play and ball sports.
The park is a major component of the Bermondsey Spa regeneration area and has been designed as a 'city green' to act as a focal point for the neighbourhood.
The new facilities were opened by relatives of the late Ellen Brown who was a local community activist for many years.
The 4.5 acre scheme has been designed by Broadway Malyan.